Let's face it- every year, we as Mommas make a beautiful, hope-filled list of Resolutions,- ranging from saving money to investing in serious "me" time. What if we told you that RSVPing for the WeeTRADE Spring sale would check lots of your New Years' Resolution boxes? Well, it can! Here's how:
Typical Resolution: 
I need to spend money more wisely in 2019.
WeeTRADE Version: 
I need to shop the Spring Sale at the Town Center so I don't overpay on my children's summer clothes.
We could wear shorts and short-sleeved shirts for 12 months a year here in Florida! The Spring Sale is full of warm-weather clothes,- from the cutest seersucker dresses to even the not-as-adorable name-brand boys' summer sports gear. We have everything you need to outfit your littles for Easter photos, days at the beach, summer camp and more! Don't pay retail before shopping at WeeTRADE in February!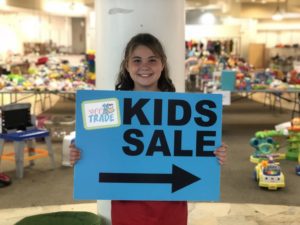 ---
Typical Resolution: 
Even with my little free time, I need to figure out how to make some extra cash!
After the holidays, we are all in a DUMP AND PURGE mood. So it should be no surprise then that the Spring Sale is as close to December as possible! We know everyone is in the mood to move out the old and in with the new. (And when we say new, we mean gently used, like-new items from WeeTRADE!) WeeTRADE is an easy, hassle-free way to make money, period!
WeeTRADE Version: 
Over the next 6 weeks, I need to gather and tag my children's outgrown clothes and toys and sell them at WeeTRADE.
It is easier than you think to consign at WeeTRADE. And now with Mobile Tagging System, it is even easier to get those items in before the February 2nd deadline!
---
Typical Resolution: 
I'm only around little people all day- I need to make time for grownup convos!
WeeTRADE Version: 
I will sign up to help at the Spring WeeTRADE sale and meet a group of amazing, money saving Mommas like myself!
Volunteering at a WeeTRADE sale is not only fun, but it also allows you to shop early! And the early bird gets the worm, right?! Or as we like to say,- the Volunteering Parents get the best deals!
---
Typical Resolution: 
I need to make Moms Night Outs a priority!
WeeTRADE Version: 
I will text my Mom friends and plan on shopping the PreSale on Wednesday, February 6th and then enjoy a night at the Town Center!
We are SO EXCITED to be at the St. Johns Town Center for our Spring Sale! We cannot think of a more perfect location for a Moms Night Out! So grab a babysitter or put your Hubby on kid duty and make a date with your ladies. We will be open extended hours just for this purpose!
RSVP to the Spring Sale HERE so you don't miss any contests and announcements!