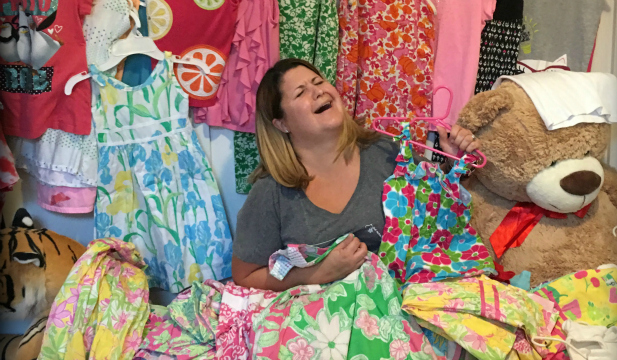 Let's face it, with the consigning deadline looming, it's easy to start feeling a bit overwhelmed by the piles of clothes, shoes and toys we have been meaning to sort, hang and tag. Before you have a panic attack, I have a few tips to calm your nerves and get you back on track to making money at the sale!
1. Divide and Conquer 
Sure, you've already divided your items into what to sell at the sale. But if you have just too much to sell, pick out these items first to tag:
-items with sets (such a matching shirt and pants)
-the higher-end brands, such as Lilly Pulitzer, Tea Collection, Vineyard Vines, Matilda Jane, etc
-items that are new with tags
Hopefully, you will have enough time to enter and tag everything, but in case you don't, you will have the highest selling items ready to consign!
2. Designate a "consign time"   
Even if it's an hour here and there, you'll be surprised how much you can get entered and hung up when you dedicate the time for it. I'm the queen of trying to do more than one thing at once, but that doesn't always result in a quality outcome. Sit down with your laptop and a pile of clothes and just start entering. Before you know it, you'll be ready to hang and print labels.
3. Throw a WeeTRADE play date!
This is my favorite way to get the items entered in just one afternoon. Invite a few fellow consignor friends over (I would recommend no more than 3 though,- we have to stay focused!) While the kids play, the adults tag and enter their items. I always end up being the friend ironing the clothes, while another mom cuts out the tags and attaches them to the clothes. This is also a great way to introduce new moms to the sale!
I know it can seem like a massive undertaking  at first, but just think of the rewards: consignors shop early before the public and best of all- the check you'll receive for your hard work.