Tagging, Prepping, and Pricing
Tagging Deadline:
Fri, Feb 3rd 11:59pm
Here's How To Prepare Your Items…
CardStock Tags
Print tags on WHITE 65lb+ WHITE cardstock (DO NOT USE regular paper).
6 tags will print per page on your home computer.
Tools Needed
Use small safety pins (no large safety pins or straight pins) or tagging guns to attach tags
Tag Placement
Secure tags via pins or tag gun on TOP CENTER back collar/waistband on actual clothing tag.  Do NOT tag way down inside clothing or on hemlines. Do not leave holes in fabric. Think seams!
Tagless Item Placement
If tag less, please tag on the RIGHT sleeve's inner side seam as you look at the item thru the inside extra seam fabric. Bottoms pin on belt loop or use safety pin/tag gun on seam of waist band.
WARNING
Pull price tags out so VISIBLE-don't tuck in! Don't tag way down inside the clothing. Cashiers can't hunt for tags. Avoid pinning or tagging w/ a tagging gun thru front of clothing! ONLY tag on a seam, tag or inside extra fabric. Where you tag WILL leave a hole making it unsellable.
HANGERS to USE-All Clothing MUST be brought Hung

Appropriate sized children's hangers are BEST for presentation. Do NOT use too small a hanger-it slips to the floor. Too large a hanger & it stretches clothing
NO ADULT SIZE WIRE HANGERS for clothing UNDER size 8
Some stores will give hangers if you ask. Dollar Store/WalMart/Target sell 8-10 for $1
We sell shirt hangers 10 for $1

Hang clothing with hanger facing LEFT like a question mark "?"
HOW TO HANG Pants/Skorts/Skirts/Shorts

DO NOT hang pants or skirts folded OVER hangers. They won't sell if they can't be seen
Hang flat & open on clip pant hangers or safety pinned open on top part of hangers (NO clothes pins) see visual pics
We offer a limited supply of pant hangers for .25

HOW TO HANG outfits/multiple pieces/accessories

IMPORTANT! Safety pin pieces to each other. Rubberband hangers of multi piece together
Attach matching accessories inside ziploc bags to the outfit

Item Prepping

Items should be laundered & pressed, they will sell for more when presented at their best
All buttons/snaps/zippers closed & dress sashes tied 
Launder stored clothing to freshen up. Hard to notice storage spots are easily seen in our bright lights

Shoes

Secure together with string/laces/zip ties/ribbon etc. NO bags (unless robeez or pedipeds), NO boxes allowed. Polish minor scuffs, Mr. Eraser works magic. Wipe down to freshen. Launder tennis shoes.
Clean Baby Equipment & Large Toys

The cleaner they are, the newer they look! Clorox Wipes & Mr. Eraser work great
Vacuum or launder cloth pieces
Bring your larger item tags w/you to drop off to be attached to our security tags. If the item is not able to be carried, it will need a large item tag provided at drop off

Must secure all pieces. Please note missing pieces
Print photos of hard to see toys. Include instructions. Comparative new pricing sheets help items to sell 
Battery Operated Items MUST have working batteries ($1 store fine).
Collections of toys like SuperHeroes, Trains, Barbie Dolls, American Girl/Doll Clothing etc need to be packaged in Ziploc Bags secured w/tape. You don't want little hands to toss about. Pictures of the items and/or index cards listing what's inside are helpful too.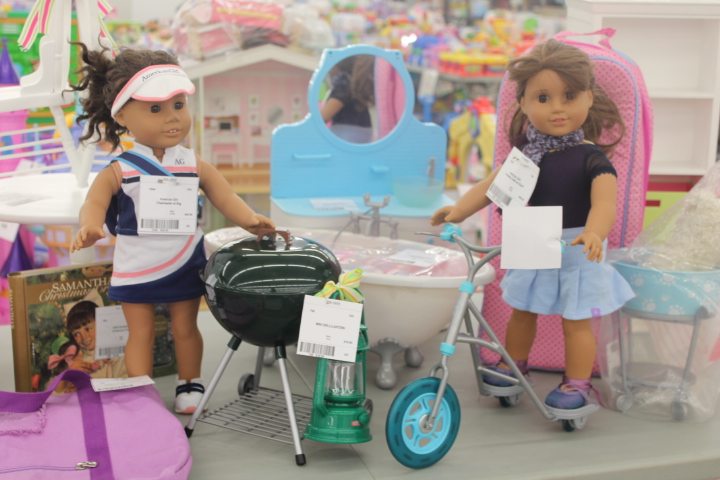 Need some Tagging Visuals?  Check these out!
Price Your Items 60-70% OFF original retail price!
Ask yourself "What would I pay for this item?"
Price competitively, as mall brands compete w/boutique brands. Our shoppers want good deals on high quality items.
Generally prices run 60-70% OFF original retail price; however, due to higher volume of infant sizes 0-24 months, we recommend pricing these sizes lower to be competitive. If item is new with or without tags feel free to price higher & note "new" on the tag. Selling prices vary depending on the condition, demand & brand.
We're happy to assist in pricing. Email us to preview your pricing online prior to printing your tags. Consider what you'd pay for the item yourself remembering it is gently loved. Our buyers are willing to pay more for quality items. Price fair. If you over price your items, it reflects on WeeTRADE. Shoppers will be turned off if they find too many over priced items.
Choosing to Discount?
Items will sell quickly if priced right PRIOR to the 1/2 price sale. Don't price considering what it would sell for at 1/2 Price as we have far more traffic the first 3 days vs the last day. If you're not comfortable with what it would sell for at 1/2 Price forego the option & price your items at what you'd like to receive for them.
You do NOT have to allow your item to go 1/2 price, it will still be on the sales floor. Simply consider if you want to bring the items home & store or reap the full benefits of cleaning up & cashing out!