Consignor UPDATES:
TAG DESCRIPTION: Brand Name MUST be included on your price tag
Consignors w/ 300+ items: MUST contact us by Sept TBA for special drop off appointments AND post sale sorting/pick up details
Items priced OVER $25: MUST pull to show us at drop off
BOOK TAGGING:  Selling groups of books?  Please place in ziploc bags w/tag placed on the outside of bag. Secure bags closed w/packing tape. Please DO NOT use ribbon, string or rubber bands. They come apart too easily.
REMEMBER:
Strict Limit on youth size 12 yrs+. Only 30 items per gender. Have more, email us
Secure Outfits: Prevent pieces from separating. Safety pin all outfit pieces together, then rubber band the hangers together. Pin so there are NO holes made in visible areas
No MIXED Clustered Clothing: Pair ONLY "coordinating" pieces & SAME SIZE ONLY.  Mixed brands are fine. Non Matching Sets will not be accepted. Sell ONE Outfit or multiple outfits that can all be intermixed. Matching tops w/bottoms or 2-3 similar style tops or similar bottoms accepted–ie, 2 polo shirts, 2 drifit shirts, 2 dresses or two tops w/match bottoms.
DO NOT MIX sizes -12M and 18M are NOT the same size. 6-12M and 12M are the same size.
Important SHOE TAGGING Tips-Shoes over $25 must be shown to checker at drop off. DO NOT HOLE PUNCH your tags. SAFETY PIN your tag to your shoes (thru laces, buckles, canvas, elastic). Do NOT use a tagging gun to secure tags or put ribbon/string thru the tag as they break off. Adding a piece of tape over the pin on the tag will add security too.
IMPORTANT INFANT CLOTHING INFO:
HANG all clothing INCLUDING sleep sacks/swaddles

. NO "bagged" clothing accepted.

NO groups of onesies or single onesies-UNLESS boutique/better brands.

Must include bottom(s) & NO single/grouped leggings must include top(s)

NO infant footed sleepers 0-18M

 UNLESS better brands like Kissy Kissy, Ralph Lauren, Gap. Limited holiday specific onesies/sleepers accepted. (Price infant sizes lower)

Drop Off Dates
Sept 14-16
Up to 300 items: ONE appt time
300+ items: MUST email us for drop, sort & pick up appts
Need to schedule outside these dates email us.
Curbside Assistance
Need Special Assistance
Email for accommodations
Drop Off :
Before You Come
Hang all clothing items facing LEFT so hanger looks like question mark "?"
Pull price tags outside the item on all clothing or the cashiers will miss the tag
Bring clothing & shoes sized by gender
Bin/box/bag items by category -all books, all toys, all decor. all baby items together to assist in placement
Wipe items CLEAN, include batteries, secure small pieces well to items
MUST Reprint tags on any item you change price on. Do NOT handwrite price change OR add red star.  
Print & bring tags for larger/heavier items to be attached to claim tickets at drop off
Be sure tags are placed correctly! Check: Tagging Tips 
When You Arrive
Please allow approx 30 min to drop off
Park & come inside FIRST to check in w/hostess
Feel free to use our rolling racks & carts but NOT OUTSIDE in parking lots only on dry sidewalks
Place clothing on inspection racks sized by gender. Set other items on table.
Staple your large item price tags to our claim tickets then attach to your items
Assist with placing items on the floor after inspection
Please note: If you send your husband/friend be sure they're prepared to put your items on the floor for you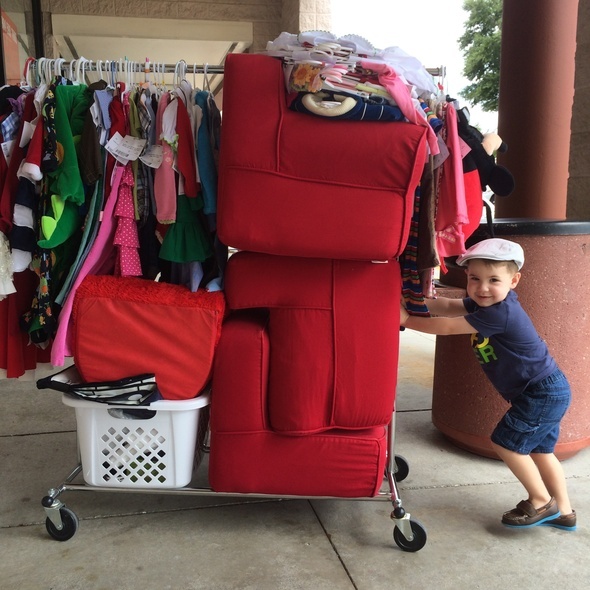 Pick Up Times
Mon Sept 25
Morning: 9:30a-12:30p
CLOSED: 12:30-4p
Evening: 4-6p
Selling 300+ items-EMAIL for Pick Up Appt
Pick Up Reminders:
Schedule appointment (or come stand by DURING these hours ONLY)
Can't make pick up? Send a friend
IMPORTANT: Books/DVDs, stuffed animals & small accessories are NOT sorted, you will need to collect those items from their bins at pick up or they will be DONATED
Checks are mailed within 2 weeks